Quicksilver Gondola – Making the Connection
The centerpiece of Park City's $50 million dollar improvement, Quicksilver, a high-speed 8 person gondola connecting Park City to Canyons is getting the finishing touches. The new gondola is expected to be in operation for skiers and snowboarders by December 11.
Quicksilver will cover the area from the existing Silverlode Lift at Park City to the Flatiron Lift area at Canyons. Additionally, a mid-station will function at the top of Pine Cone Ridge to allow guests the opportunity to ski into Thaynes Canyons via gated ski access, and also to the Iron Mountain area on newly completed trails.
The connection of the two resorts, being united as one will result in the largest ski resort in the United States, covering 7,300 acres of ski terrain. This area is a 2,300 acres larger than Vail and less than 1,000 acres smaller than Whistler-Blackcomb, North America's largest ski area.
Here is a trail map of the entire resort, showing the Quicksilver connecting gondola highlighted in yellow. Click on the map to go to the new Park City trail map.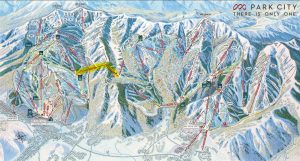 Related Posts