Spa, say "Ahhh" – A Park City Spa Sampling
There are numerous spas in Park City as every resort has their own rendition of a spa. We have found the offerings to be quite diverse. As you would expect, the more luxurious the resort, the more luxurious the spa.
Below are just a few of the most relaxing spas with the most offerings available in Park City (Click on the spa name to visit their website):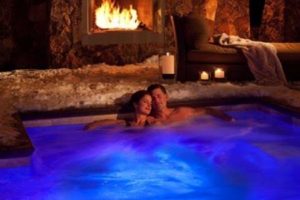 The Waldorf Astoria Spa offers everything from massages and fitness to a hair and nails. The custom fitness center has programs to fit the seasons such as their ski conditioning program, intended to get  you ready for ski season. Other offerings include yoga, kick boxing and seasonal classes such as SUP classes in the pool. Package sessions include pilates, yoga and personal training.
Their massage menu is extensive and covers several forms of massage therapy and fun couples massages.
The salon services include hair, nails, manicures, pedicures and much more.
The Waldorf Astoria Spa also runs some seasonal specials, such as the one recently for locals which included a 75 minute scrub/massage and a complimentary Sea Salt Honey Brittle with your choice of Pumpkin Mousse or Pumpkin Spice Latte from Powder.  The special pricing is $50 off.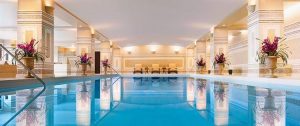 Spa Montage is a full service spa with a full menu of offerings. A sampling of what you can enjoy at the Spa Montage are Just for Couples Massages, Body Treatments and Children's Services (Mommy and Me manicures, for example).
The salon at the Waldorf will get you ready for a night on the town and also offers everything from damaged hair treatments, hair painting, and deep conditioning treatment, as well as complete salon services (cut, wash, color), waxing, facials and nail services.
A wellness studio includes a state of the art facility with lap pool, strength training equipment, and a mind and body movement studio. A full range of fitness and well-being classes are offered.
Montage also has a nutritionist to help you with your eating habits, leading you to a lifetime of health.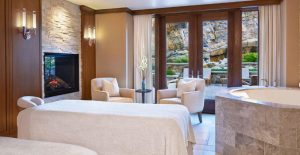 Remède Spa St at the St. Regis
The Remède Spa sounds amazing! First off it is rated 4 Stars by Forbes in 2015. According to Forbes, "A 4 Star Spa offers a wonderful experience in an inviting and serene environment. A sense of personalized service is evident from the moment you check in and receive your robe and slippers. Your comfort is always of utmost concern to the well-trained staff".
If that doesn't already sound great, there are two levels in this 14,000 square foot spa (that's big!), a reflecting pool, grand staircase, sauna steamroom, whirlpool,a 3,000 square foot gym with fitness classes, and 11 treatment rooms for message and spa therapies.
Remède the brand makes sure they make good by providing plenty of their products including lotions and shampoos. After you shower, everything you may need is here at your disposal including hair dryers and curlers, make up wipes, tooth brush and mini tubes of toothpaste.
Related Posts
One more run. Take a deep breath, it's worth it. Point yourself…

Timberwolf Estates | Canyons Village Real Estate "This rare and ideally located…

Viridian Park City | Canyons Village Real Estate The evolution of Canyons…